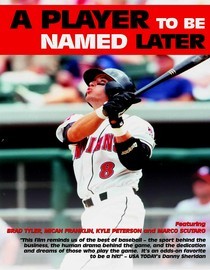 Last night I watched
A Player to be Named Later
on Netflix. It is a documentary about the Milwaukee Brewers minor league system, and it chronicles one season from Spring in Arizona through the end, showing players moving up, down, getting designated for assignment, and others just managing to stay on the AAA level.
Some people could find this boring but I think this gives you a better understanding of what these guys go through, and what they need to do to bust their asses to get here. One of the guys that is seen throughout the
movie
is Marco Scutaro. They pronounce his name "skit-taro" in the
movie
which makes me question the way everyone says it on tv now.
In either case, this is something you should check out of you have Netflix and if you hate it well you can move on to the next movie in your queue. If you don't have Netflix click any of the links to a cheap copy of the
movie
on DVD.